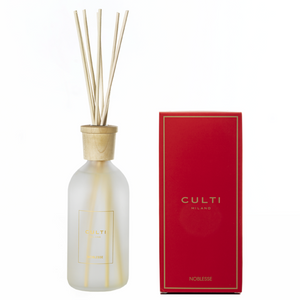 About The Fragrance
Crystal from the night sky in Winter. The warmth of a home, the cosy, familiar aromas of cinnamon, ginger, star anise enhanced by the sweetness of vanilla. A warming fragrance.
Olfactory Notes
Olfactory Family: Oriental
Facet: Spicy
Olfactory Notes: Cinnamon, Ginger, Star Anise & Vanilla
Ideal For
Living Room, Kitchen & Study
Tips for Best Use
Ideal placement: open, airy places, (for example, near doors, windows, staircases, fan/ air vents), heat sources (for example, radiators). Turn the reeds every 10 - 15 days or as often as every 3 days to reach desired intensity.
In room fragrance stick diffusers, it is natural for a small viscous mass to form, which may be seen floating inside the bottle. This phenomenon is sometimes caused by the gradual concentration of the various ingredients, which, over time, may occasionally separate and sediment on the bottom of the container.
This phenomenon does not compromise either the effectiveness or the safety of the product. In the case of the formation of sediment, before disposing of the empty bottle, we suggest filtering the sediment through kitchen paper and disposing of it separately with the urban solid waste.
Turn the reeds far from delicate surfaces (furniture, fine flooring), over a sink