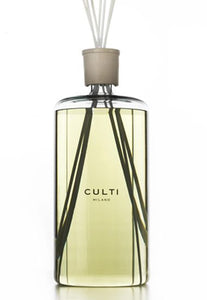 The unprecedented olfactory experience:

Matusalem
The new 24 litre bottle is crafted for an unprecedented olfactory experience. Made from clear blown glass, topped with natural maple wood cap and a bunch of high-tech reeds for optimum diffusion.

Matusalem is currently available Mareminerale & The. Intended for big spaces, where the wellbeing of the guests is a key element to hospitality. The diffuser releases its delightful fragrances gradually and discreetly.
For customised order (other scents), lead time may take up to 3 - 6 months.
Enquire with us here.
24-litres diffuser; comes with a bunch of high-tech sticks for a continuous diffusion of the perfume.
Lifespan: Diffuser up to 36 months
Coverage: 60 sq m
Bottle Size: Diameter 27.5cm x Height 66cm (excluding sticks), approximately 125cm tall with sticks