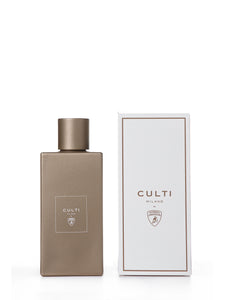 CONCEPT
Spring 2021 presents the beginning of the collaboration between CULTI MILANO andAutomobili Lamborghini, with an elegant release that conveys the excellence of the two Italian brands. Automobili Lamborghini is the first, fresh and energetic fragrance developed for the olfactory branding project made by CULTI MILANO for the super sports cars brand.
FRAGRANCE
The CULTI MILANO team has created an energetic and vital fragrance for Automobili Lamborghini, extremely refined, fresh and vigorous.The fragrance is ideal to describe the values of Automobili Lamborghini in the most exclusive spaces and events, a real olfactory signature for the brand.
An energetic and gritty fragrance.The citrus opening of grapefruit and bitter orange becomes even fresher thanks to the heart of vetiver and bergamot. The bottom of cedarwood and sandalwood envelops and reinforces the whole fragrance.
DESIGN
Bronzo Zenas varnished glass with white serigraphy
Bronzo Zenas varnished maple lid
White technical sticks